High Limit Slots


Ideal slot games for the high roller!
The vast majority of gamblers are happy to stake small amounts of their cash when playing a variety of games, such as slot machines. We may dream of hitting the jackpot or the big time and taking home a considerable sum of money as a reward, but we do not have the financial facilities to gamble with significantly larger sums of money for potentially huge payouts on a regular basis.
There is one such person who does do this, a gambler who is willing to gamble with large sums of cash in the hope that their returns are equally large. Welcome to the world of the high roller!
High roller gamblers often live in a different world to many of us mere mortals. Their name passes into legend and if they visit some gambling hotspot, such as Macau, Singapore, Atlantic City or Las Vegas, you can be sure that the casinos will know they are in town and offer them all kinds of incentives, such as helicopter transport, free luxury suites and more in order to get them to play at their establishment.
Of course, in the online world, it is a slightly different thing, but once again high rollers can and do play many games online and slot machines are certainly one of the most popular and easy ways to play top dollar games, to win a big money payout. So here are our favourite high limit slots for you:
Burning Desire
How many times have you played a slot and seen a payline just miss out? With the icon you need just one above or below the slot you need it in? Well with new Burning Desire slot, you need never see that happen again as this is a slot that offers no paylines!
Instead, you simply can make up a winning line out of any adjacent symbol, meaning that there are a massive 243 ways to win and with each spin able to accept wages of up to 250 coins per spin, this is a fantastic way for high rollers to try and win up to 90,000 coins! Our absolute favourite game….! Play now!

Break da Bank Again
Another popular slot game for the big money player is the suitably named Break da Bank Again. This slot game is aimed at experienced players who can win up to 93,750 coins when playing.
The default bets on this game are set high to attract high roller, who can bet up to a maximum of 90 coins per spin to try and win on one of nine paylines.
Both of these slots feature multiplier, scatter and wild symbols as well as a Free Spin trigger, activating sub-games and free spins giving you the chance to really maximise your winnings! Play now!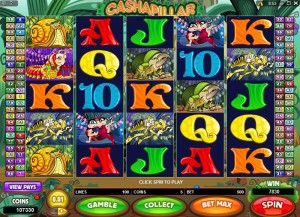 Cashapillar
For some high rollers, playing the biggest video slot available is the only way to go, as many are looking for lots of paylines as well. Cashapillar is certainly a slot that will appeal in that case! With over 100 pay lines, 5 "Cashapillar" wilds which not only can be used to make a winning line, but double the winnings on that line too and the chance to win two million coins in the base game and six million in free spins are what really attracts those with cash to spare!
So if you fancy some high rolling slot action, these three slots are the perfect place to start your quest to win some serious cash! Play now!

High Limit Slots

,