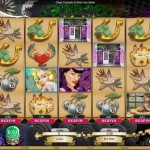 The Hot Ink slot game has no complicated pay out tables like some slots online. In order to win you simply need to get identical symbols anywhere on adjoining reels. With five reels and four rows of symbols on each reel, the game boasts more than a thousand ways to win which gives you plenty of chances to hit the jackpot.
The symbols represent tattoo designs but you do not have to be a tattoo fan to appreciate the beautiful designs on this game. Some designs open bonus games or extra payouts that can increase your jackpot.
Bets on this game start small so it is suitable for most beginners who want to try slots online without having to make large bets straightaway.
Hot Ink,